CJ Cummings
Weight Lifting Champion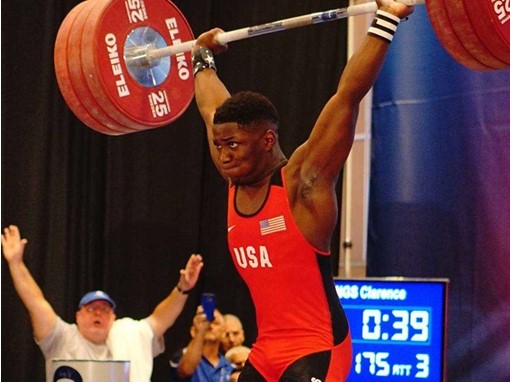 Born and Raised in Beaufort, South Carolina by his parents Clarence and Savasah Cummings, CJ Cummings is a 15-year-old weight lifting sensation.
CJ's accomplishments include:
At age 11, CJ became the youngest lifter to complete a clean & jerk of twice his body weight (200lbs).
At age 12, he earned a silver medal at the Men's American Open. Cummings is the youngest to compete and place at this event.
At age 13, CJ was awarded the title of Best Overall Lifter at the 2013 Youth Pan Americans and set Pan American records in the 15 & under category. As a result of these accomplishments, USA Weightlifting declared CJ Cummings "the strongest 13 year-old in the world."
At age 14, CJ broke the Senior Men's American Record for his clean and jerk of 153 kg (337lbs) at the 2014 USA Weightlifting National Championships.
At age 15, CJ set an unofficial youth world record at the 2015 USAW Senior National Weightlifting Championships.
Won the gold medal for his weight class and the award for the best overall lifter at the 2015 Youth Pan Americans.
Was the youngest lifter to compete in any weight class at the 2015 World Championships
Placed 1st at the American Open for his weightclass.
Won the gold medal for his weight class in the clean and jerk, snatch and total and Best Lifter at the 2016 USA Junior Nationals.
CJ's Personal Records:
Snatch - 134kg
Clean & Jerk - 175kg
CJ has been invited to trials for the summer games in Rio in 2016 and is an alternate for the USA's World Championships team. He trains at CrossFit Beaufort with his coach Rayford Jones and Assistant Coach Teddy Binette.
CONTACTS
Dan Sarro

Reebok - GLOBAL

United States

+1 781 401 4443
MORE FROM BRAND PARTNERS
SUBSCRIBE TO RSS FEED
XML