'It's a Nice Day for a WOD Wedding;' Reebok Makes CrossFit Couple's Dream Come True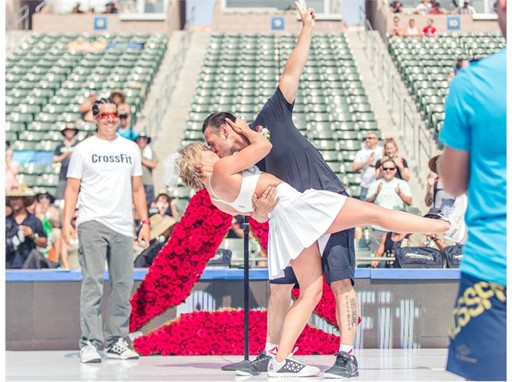 Kettlebells AND wedding bells rang at the 2016 Reebok CrossFit Games As Couple Marries Inside Arena
Carson, California – July 23, 2016: The 2016 Reebok CrossFit Games hosted a beautiful, albeit unconventional, wedding ceremony as passionate CrossFitters Oliver Drewes and Christina Moore tied the knot on the competition floor at the StubHub Arena in Carson, California in front of a crowd of fellow CrossFitters.
In a true testament to passionate relationships and community bonds that exist within the CrossFit community, Drewes and Moore first met at CrossFit Crow Hill where their love blossomed. After applying to 
the Reebok WOD Wedding social media contest
 by sharing their CrossFit-inspired love story, the couple soon found themselves on a plane to the 2016 Reebok CrossFit Games where they married in front of a packed stadium at the event finals.
The special ceremony can be viewed here: https://youtu.be/2-ob9aYTLaE 
The gleaming bride, Christina Moore, said: "Today was a phenomenal experience and exactly how I pictured my wedding! Our CrossFit Box is a community like nothing I've ever experienced and the relationships and support are what brought Oliver and myself back each day and then together for life! I am so appreciative that Reebok was able to afford us this amazing and memorable opportunity".
As part of its Be More Human brand campaign, Reebok believes that we're better together, which Christina and Oliver's marriage exemplifies. Their romance mirrors many other lifelong bonds formed in CrossFit boxes worldwide and championed by Reebok as it honors not only the physical, but the mental and social benefits that come with tough fitness activities like CrossFit.
"One of the most amazing things about CrossFit is its power to transform your whole life and make you a better person, and in Christina and Oliver's cases, a better partner. The Reebok WOD Wedding celebrates the communities forged in CrossFit boxes globally which we're proud to support as partners to the CrossFit community," said Yan Martin, Vice President of Brand and Creative Direction at Reebok.
The Reebok WOD wedding wasn't the only action in Carson this weekend as Katrin Davidsdottir and Matt Fraser were named 2016 Fittest Man and Woman on Earth™ after a dramatic week of pulsating competition. For Davidsdottir, the win represented back-to-back titles as Fittest Woman on Earth after her victory in 2015. For Fraser, this is his first Reebok CrossFit Games title.
Some of the fittest, toughest athletes in the world battled it out for five days, taking on a series of demanding and unique WODs in the latest Reebok apparel and footwear, including the 
Reebok Nano 6.0
.
CONTACTS
Michèle Barmash

Reebok Global

United States

Michele.barmash@reebok.com

781-686-2823

Paul Anastasiadis

-

United States

paul.anastasiadis@mcsaatchi.com

-