DuPont and Reebok Collaborate on New Reebok CrossFit Collection: Apparel and Footwear Line to 'Dare Bigger' with DuPont Kevlar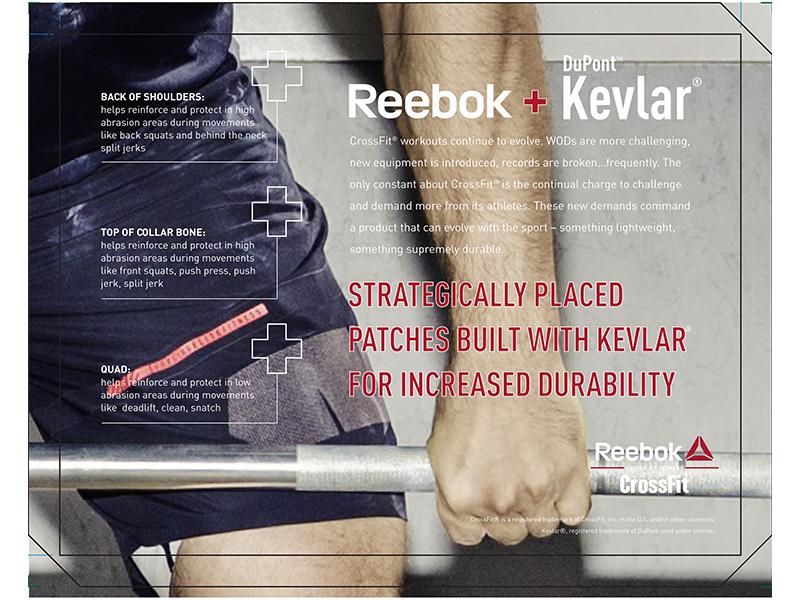 WILMINGTON, Del., May 11, 2015 – Today, DuPont Protection Technologies (DuPont) and Reebok International (Reebok) announced the signing of a multi-year trademark license agreement for the use of the DuPont™ Kevlar® and Dare Bigger™ trademarks. Launching this upcoming June, the new Spring-Summer 2015 Reebok CrossFit® collection will incorporate the DuPont advanced material and feature the DuPont trademarks.
DuPont™ Kevlar® fiber is known for its extreme strength and durability. It is used in a variety of high-performance sporting apparel, accessories and equipment. As CrossFit® workouts continue to evolve and become more challenging and the limits of fitness are pushed, the CrossFit® athlete requires apparel that can withstand the rigors of functional movements performed at high intensity. This collection was designed with distinct emphasis on the specific needs of the CrossFit® athlete.
"The science and engineering behind this advanced material enables athletes to Dare Bigger™ and push the limits of their sport," said Marc Doyle, president of DuPont Protection Technologies. "The collaboration is a great fit between our companies and capitalizes on the synergy between our brands, allowing us to innovate and help make strong, light and durable athletic apparel and gear."
Best known for its use in ballistic and stab-resistant body armor, Kevlar® has helped to save the lives of thousands of people around the world. The use of Kevlar® has been extended to everything from fire fighter and industrial protective clothing to vehicles, fiber optic cables, mining belts and commercial aircraft. The Kevlar® brand and science also is used in many consumer products such as mobile phones, tires, workwear and high-performance sporting apparel, shoes and equipment. This year, DuPont is celebrating the 50th anniversary of the discoveries that led to Kevlar® and this new line of Reebok CrossFit® apparel and footwear is an example of advancing the innovation legacy of Kevlar® forward.
To celebrate the collaboration of this new line of Reebok CrossFit® apparel, Reebok has created a short video that emphasizes the unique partnership of these two powerful brands. The video truly highlights the story of how Reebok and DuPont are coming together to reach new heights. Many products are featured in the video, including the Reebok CrossFit® Board Shorts built with patches made with Kevlar® fiber. This product line also will be presented at the 2015 Reebok CrossFit® Games. The video can be viewed here: here​.
"My CrossFit training regimen is constantly testing my limits. I work out multiple times a day so I need consistent, durable gear that withstands the toughest workout," said Camille Leblanc-Bazinet, professional CrossFit® athlete and female winner of the 2014 Reebok CrossFit® Games. "Reebok CrossFit® apparel and footwear made with DuPont™ Kevlar® are an ideal combination resulting in high-performance gear that allows me to do even more than I think is possible."
"Reebok has strategically engineered Kevlar® into key abrasion zones within its apparel and footwear so they are durable enough to withstand even the toughest workouts," said Corinna Werkle, senior vice president, Training at Reebok. "We value our relationship with DuPont for the science behind these world-class products and for the power of the DuPont™ Kevlar® brand."
The Reebok CrossFit® apparel collection will be available on June 1, 2015, ranging from $100 MSRP - $250 MSRP at Reebok.com​, store.crossfit.com​ and select retailers worldwide.
CONTACTS
Sandra K. James

Du Pont

United States

sandra.k.james@dupont.com

302-999-3813

Michaela Bero

Reebok International

United States

781-401-4219