FIVE YEARS OF INNOVATION IN REEBOK CROSSFIT® NANO 5.0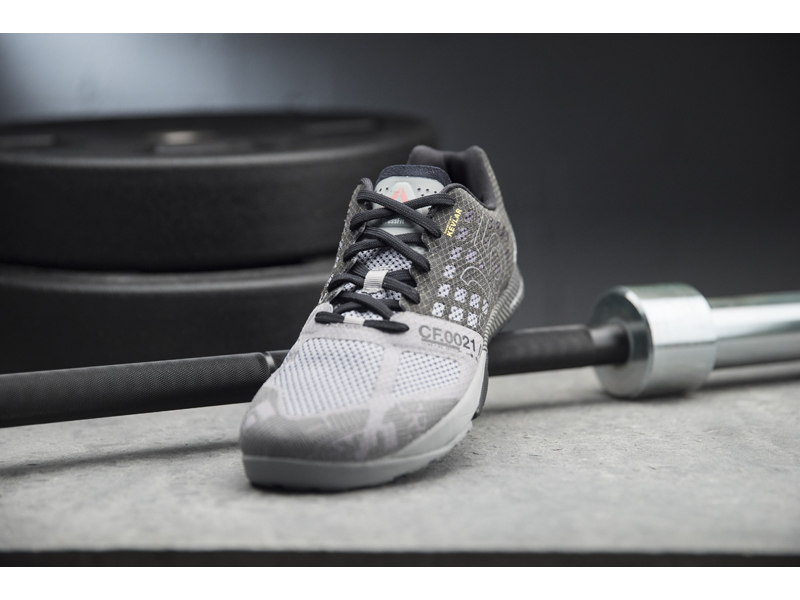 Reebok celebrates five years of CrossFit® partnership and innovation with highly anticipated Reebok CrossFit Nano 5.0
Reebok, the leaders in CrossFit® product innovation and engineering, has marked its five year anniversary as official CrossFit footwear and apparel partner with the launch of the highly anticipated Reebok CrossFit Nano 5.0 – a training shoe that features Kevlar® material for protection and durability.
Engineered specifically for the CrossFit athlete and developed in association with the CrossFit community, the Reebok CrossFit Nano 5.0 features a number of updates making it the ultimate training shoe. Reebok continues its on-going evolution in footwear for CrossFit with the introduction of Kevlar® material throughout the upper of the shoe for increased durability and abrasion protection.
Specifically, Kevlar® features the innovative 360° BulletCage built for added protection and designed specifically to help endure the most challenging and diverse CrossFit WODs. It provides protection and durability with grip, traction, and stability while staying true to CrossFit's mandate that the Reebok CrossFit Nano 5.0 is built on the empirical design spec of human movement.
In addition to the revolutionary addition of Kevlar® material, the Reebok CrossFit Nano 5.0 boasts a newly engineered anatomical heel counter and foot bed with an R55 platform for additional high rebound and cushioning. The Reebok CrossFit Nano 5.0 also offers traction working alongside a full rubber sole with MetaSplit flex groove and heightened RopePro+.
Steve Weiss, Corporate Development at CrossFit, Inc.,commented: "We know how important it is for CrossFit gear to stand up to the rigors of constantly varied functional movements performed at high intensity while not interfering with performance. We work very closely with Reebok and the CrossFit community on footwear and apparel that continues to develop and evolve as the boundaries of fitness are pushed."
"As CrossFit workouts get tougher and CrossFit athletes get stronger – so too does the Reebok CrossFit Nano," said Corinna Werkle, Head of Training at Reebok. "With the introduction of Kevlar material, we truly believe the Reebok CrossFit Nano 5.0 is our toughest shoe yet and can withstand even the harshest, toughest WODs.  At Reebok, we are hugely proud of our long-standing partnership with CrossFit; it has powered a huge range of innovative CrossFit apparel and footwear and the Reebok CrossFit Nano 5.0 is the latest landmark addition to the category."
"The Reebok CrossFit Nano 5.0 is our most innovative and supreme CrossFit specific shoe to date," said Dan Hobson, VP of Footwear Design at Reebok. "With the inclusion of Kevlar material, which is known for its extreme strength and durability, we are sure that the Reebok CrossFit Nano 5.0 will become a firm favorite in boxes around the world. We have worked hard to design and produce a piece of footwear that puts the athlete's needs first, and we are confident that the Reebok CrossFit Nano 5.0 is the shoe for all CrossFit athletes, from the bottom of a burpee to the top of a rope climb and everything in between".
Check out the 2015 Reebok CrossFit Games July 22-26 in Carson, California and at games.crossfit.com to see incredible athletes from around the world competing for the crown of Fittest on Earth while wearing the Reebok CrossFit Nano 5.0.
The Reebok CrossFit Nano 5.0 is available from 25th June 2015 at Road Runner, Rogue, EastBay and Dick's Sporting Goods, through www.reebok.com and the official CrossFit® store located at store.crossfit.com.
-END-
About Reebok
Reebok International Ltd., headquartered in Canton, MA, USA, is a leading worldwide designer, marketer and distributor of fitness and lifestyle footwear, apparel and equipment. An American-inspired global brand, Reebok is a pioneer in the sporting goods industry with a rich and storied heritage in running, training and fitness. Reebok is committed to helping consumers fulfil their potential and be "fit for life." Reebok develops products, technologies and programming which enable consumers to live a healthy lifestyle and have fun doing it. Reebok connects with the fitness consumer wherever they are and however they choose to stay fit – whether it's training, running,
walking, dance, yoga or aerobics. Reebok Classics leverages the brand's fitness heritage and represents the roots of the brand in the sports lifestyle market. A subsidiary of the adidas Group, Reebok operates under the multiple divisions of the Reebok brand, Reebok-CCM Hockey and the Sports Licensed Division. Reebok is the outfitter of the CrossFit Games, the official title sponsor of the Reebok Spartan Race, and exclusive apparel provider for Les Mills.
Discover Reebok at the following locations: http://facebook.com/reebok, http://twitter.com/reebok, http://youtube.com/reebok, http://news.reebok.com/
About CrossFit
CrossFit Inc. is the developer and provider of the CrossFit® strength and conditioning program and a recognized worldwide leader in functional fitness. Founded by Greg Glassman and built on the foundations of constantly varied, high-intensity functional movements, education and collaborative competition, CrossFit-brand workouts develop strength and fitness while cultivating community and camaraderie in each of the more than 12,000 affiliated gyms in its global network. CrossFit Inc. is a leading accredited certificate issuer for physical-training professionals worldwide and offers specialty certificate programs in addition to its core curriculum. CrossFit Inc. publishes the CrossFit Journal, promotes physical fitness and cognitive health through the CrossFit Kids Foundation, and created and operates the CrossFit Games, an annual competition where elite athletes compete to be named the Fittest on Earth®.  To learn more, visit crossfit.com, games.crossfit.com, facebook.com/crossfit or youtube.com/CrossFitHQ.  CrossFit, Forging Elite Fitness, The Sport of Fitness and Fittest on Earth are registered trademarks or trademarks of CrossFit Inc. in the U.S. and/or other countries.
CONTACTS
Andrea Nirsimloo

M&C Saatchi Sport & Ent.

United States

andrea.nirsimloo@mcsaatchi.com

646-619-2813