Reebok Adds Another Trophy to its "Be More Human" Campaign Collection with 2016 ISPO Award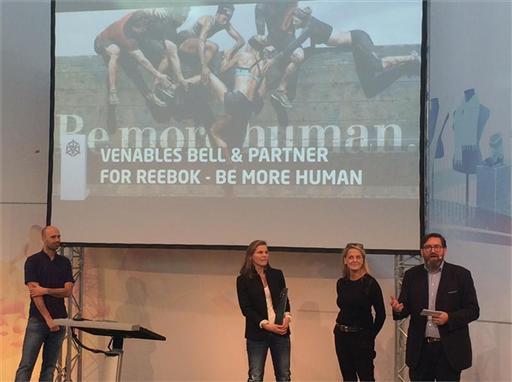 CANTON, Mass. – January 25, 2016 – Today, Reebok and partner agency Venables Bell & Partners are proud to announce that the brand's "Be More Human" campaign received an ISPO Gold Winner Award in Multichannel Marketing. The award is yet another recognition of the global fitness brand's mission to change how people perceive and experience fitness, and recognizes the work of Venables Bell & Partners in delivering this message across marketing platforms. The award is yet another for the campaign, which also took home two Silver Cannes Lions and two Bronze Clio Sport awards.
The "Be More Human" campaign launched in January 2015, celebrating those who dedicate themselves to a varied and intense form of fitness not for the trophies, awards or money, but to better themselves and the world around.The campaign also unveiled the new Delta logo, which represents the physical, mental and social change that comes through living a fitness lifestyle. Multi-channel advertising for the campaign included TVCs, out of home, digital, and print ads, with the hero advertisement, "Freak Show" leading the way in the ISPO nomination.
"For the past year, Reebok has gone back to its fitness roots, and rededicated itself to helping people challenge themselves daily and transform their lives through fitness," says Yan Martin, Vice President of Global Brand Management at Reebok, "On behalf of Reebok and Venables Bell & Partners, we're honored to be recognized by ISPO for these efforts."
Every year, ISPO honors the best creative communications services of the sporting good business, including videos, emotional images, unconventional marketing tools, mobile applications, and events. All nominations for the Communication division are evaluated by an international jury panel of experts that contribute their own knowledge, views and experiences to form a reliable basis for unbiased decisions. For the Multichannel Marketing Award, the "Be More Human" campaign was specifically noted to not only position the brand, but play simultaneously with the varied aspects of Reebok's character throughout all windows of communication. Reebok will receive the Gold Winner Award at the ISPO Awards Ceremony in Munich, which takes place January 24-27, 2016.
The ISPO award is not the first marketing award taken home by The "Be More Human" campaign. In July, the campaign was awarded two Silver Cannes Lions in the Cyber category for the Integrated Multiplatform and the Craft and Design of the website.
About Reebok
Reebok International Ltd., headquartered in Canton, MA, USA, is a leading worldwide designer, marketer and distributor of fitness and lifestyle footwear, apparel and equipment. An American-inspired global brand, Reebok is a pioneer in the sporting goods industry with a rich and storied fitness heritage. Reebok develops products, technologies and programming which enables movement and is committed to accompanying people on their journey to fulfill their potential. Reebok connects with the fitness consumer wherever they are and however they choose to stay fit – whether it's training, running, walking, dance, yoga or aerobics. Reebok Classics leverages the brand's fitness heritage and represents the roots of the brand in the sports lifestyle market. A subsidiary of the adidas Group, Reebok operates under the multiple divisions of the Reebok brand, Reebok-CCM Hockey and the Sports Licensed Division.  Reebok is the exclusive outfitter of CrossFit and the CrossFit Games, the official title sponsor of the Reebok Spartan Race; the exclusive authentic global outfitter of UFC, and exclusive apparel provider for Les Mills. For more information, visit Reebok at www.reebok.com or, for the latest news at http://news.reebok.com/. Or, discover Reebok at the following locations: http://facebook.com/reebok; http://twitter.com/reebok; and http://youtube.com/reebok
CONTACTS
Dan Sarro

Corporate Communications

United States

+1 781 401 4443