REEBOK AND GIGI HADID HOST THE #PERFECTNEVER REVOLUTION, UNITING WOMEN TO CONFRONT THE NOTION OF PERFECTION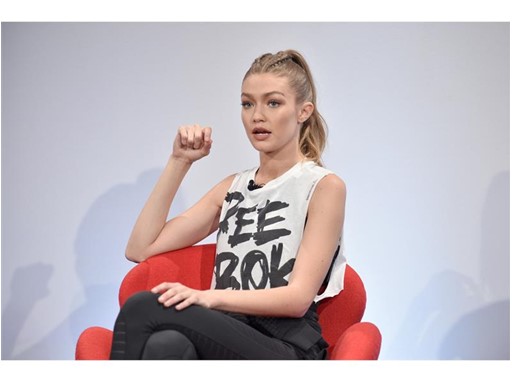 Powerful event, hosted by Gigi, honors the next chapter in Reebok's "Be More Human" brand campaign with a series of physically, mentally, and socially empowering activities
Aly Raisman, Lena Dunham, Ruby Rose, Zoe Kravitz, and Jessica Mendoza joined Hadid in an engaging panel discussion, challenging the notion of perfection  
Mass-workout experience celebrated Gigi's passion for boxing, as she sparred alongside guests
New York, USA – December 8th, 2016: Reebok and brand ambassador Gigi Hadid hosted the #PerfectNever Revolution, an empowering event that challenged hundreds of women from all walks of life to come together and confront the unattainable notions and standards of perfection. A series of activities including a workout class, a panel discussion with prolific female trailblazers and an immersive, artistic installation brought to life Reebok's underpinning brand spirit, "Be More Human," and showcased the global fitness leader's unwavering commitment to identifying and meeting the demands of women worldwide.
Gigi united with a group of inspiring women who are redefining perceptions in their respective industries and challenging norms.  Here, the women formed a dynamic panel where they spoke to their own experiences of the pressures of perfection and gave insight into how they combat these impossible standards.  Panelists included:
Aly Raisman – Reebok athlete and medal-winning gymnast
Lena Dunham – Actor, writer, director, creator and star of HBO's "GIRLS" and co-founder LennyLetter.com
Jessica Mendoza – ESPN broadcaster; former medal winning softball player
Ruby Rose – Actress
Zoe Kravitz – Actress and musician
The panel was live-streamed at: reebok.com/perfectneverpanel.
Lena Dunham said, "The reason that I started doing my job was to connect with other women, with other people, and to let them know that their flaws, their complexities and their darkness were an important part of who they are. So any time I can engage with something that busts open narratives, traditional narratives, about who women are supposed to be, I'm there."
Ruby Rose said, "The #PerfectNever campaign resonated with me because I think that it embodies female empowerment and its about being authentic to yourself, being true to yourself and being the best that you can be. We are all so unique and if you can't be true to that and be authentic to who you were born to be, then you are not living the life you deserve."
Zoe Kravitz said, "The #PerfectNever campaign is important to be because I think its something we don't see enough in the world. I think its important for women to embrace the fact that were not perfect and celebrate that."
Commenting on the panel discussion, Jessica Mendoza said, "Just listening to the other women, powerful women, talk about their own strengths and weaknesses and how they've gotten to where they're at was one of the most powerful panels I've been on."
Continuing the #PerfectNever story which debuted worldwide in early 2016, Gigi also participated with guests in an immersive workout experience alongside longtime trainer and Gotham Gym owner, Rob Piela. Showcasing her love for boxing, Hadid sparred with guests during the combat master class, which took the women through moves that strengthen and empower.
The event culminated in powerful and uplifting style as Reebok and Gigi invited guests to take part in an interactive installation. A sea of balloons featuring phrases reflecting negative notions and unrealistic expectations women face in their daily lives transformed into positive and inspiring words that brought the #PerfectNever philosophy to life. Engaging with women around the world in real time, the installation featured social commentary posted via
#PerfectNever,
reflecting the campaign's truly universal message.
Commenting on the #PerfectNever Revolution, Inga Stenta, Senior Director at Reebok shared, "The #PerfectNever Revolution is a powerful expression of our Be More Human rallying cry. Reebok's mission is to empower people to be the best versions of themselves not just physically, but mentally and socially. Each moment in today's #PerfectNever experience combined these beliefs with Gigi's personal fight against the pressures of perfection. Our aim is to unite and inspire women of all ages all over the world to flip this conventional notion on its head. Potential is perpetual and limitless. Why stop at perfect?"
The #PerfectNever Revolution and Reebok's partnership with Gigi marks the second phase in the #PerfectNever movement's chapter. Its debut was led by a compelling campaign video featuring athlete and champion of empowerment, Ronda Rousey. The #PerfectNever campaign is a continuation of the Reebok 'Be More Human' marketing platform, a rallying cry for people to live up to their full potential, and continues the global fitness brand's mission to change how people perceive and experience fitness. Hadid and Reebok will work together to further champion this message.
About Reebok
Reebok International Ltd., headquartered in Canton, MA, USA, is a leading worldwide designer, marketer and distributor of fitness and lifestyle footwear, apparel and equipment. An American-inspired global brand, Reebok is a pioneer in the sporting goods industry with a rich and storied fitness heritage. Reebok develops products, technologies and programming which enable movement and is committed to accompanying people on their journey to fulfill their potential. Reebok connects with the fitness consumer wherever they are and however they choose to stay fit – whether it's training, running, walking, dance, yoga or aerobics. Reebok Classics leverages the brand's fitness heritage and represents the roots of the brand in the sports lifestyle market. A subsidiary of the adidas Group, Reebok operates under the multiple divisions of the Reebok brand, Reebok-CCM Hockey and the Sports Licensed Division.  Reebok is the exclusive outfitter of CrossFit and the Reebok CrossFit Games, the official title sponsor of the Reebok Spartan Race and exclusive apparel provider for Les Mills.