REEBOK APPOINTS FASHION INDUSTRY VETERAN AS NEW CREATIVE DIRECTOR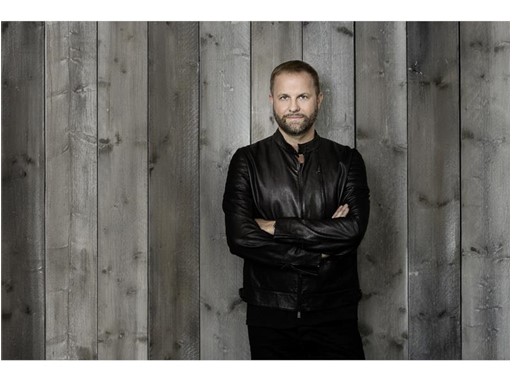 CANTON, Mass. – October 20, 2016 – Today global fitness leader Reebok announced that it has hired German-American designer and lifestyle brand strategist Thomas Steinbruck as Creative Director for the company.
Steinbruck, whose background includes senior creative roles at Porsche Design, Elie Saab and Kenneth Cole, will oversee creative direction for Reebok's footwear and apparel collections. He and his team will be charged with setting trends, creating themes and providing inspiration and guidance to the design teams, in order to deliver innovative, style-led fitness products for today's fitness consumers.
Steinbruck's impressive resume includes the creation, development and implementation of prestigious fashion house Elie Saab's Collections range, which involved creating a more contemporary version of the famed couture line. Most recently at Porsche Design, Steinbruck was responsible for implementing a full Fashion and Lifestyle Collection for both men and women. During his tenure, Porsche Design started to show at New York Fashion Week and Steinbruck produced iconic campaigns, collaborating with Peter Lindbergh and Carine Roitfeld. His team also introduced a new store concept design for the iconic brand.
Steinbruck was Assistant Professor for Fashion Design at Parsons School of Design in New York, where he was both teacher and mentor to emerging talents at the time including Lazaro Hernandez and Jack McCollough of Proenza Schouler, and Alexander Wang.
Thomas Steinbruck, Creative Director, Reebok, said, "Reebok is an amazing brand – it offers both forward-thinking fitness products alongside iconic footwear silhouettes that have marked the last few decades. This heritage, along with the tremendous potential I feel the brand has right now, really appealed to me. I'm excited to help continue to grow Reebok into a global leader in fitness and to focus on areas I'm passionate about, such as sustainability and creating products for women that are at once fashionable and functional.
"The convergence of the fashion and athletic performance worlds is exciting for an individual like myself, a sports and fitness devotee from a fashion background. I am confident that my experience will bring something truly unique to Reebok."
Steinbruck is a fitness enthusiast, participating in yoga and CrossFit regularly, as well as cycling and swimming. He has worked in both the US and across Europe, and this, coupled with his time working for both high-end couture labels and more mainstream lifestyle brands, provides him with a unique design sensibility.
Matt O'Toole, Reebok President, said, "We are building something really exciting here at Reebok.  Hiring Thomas as our Creative Director is the next step in establishing Reebok as the leading Global fitness brand.
"Thomas is not only an excellent creative, he is the perfect fit for the Reebok brand as he shares our passion for creating products for our consumer that perform at the highest level for their fitness activities, while ensuring that they look and feel great and stylish in their daily lifestyles."
-END-
Reebok Global PR
Andrea Nirsimloo
M&C Saatchi Sport & Entertainment
(+1) 646 619 2813
About Thomas Steinbruck
Thomas Steinbruck graduated from the prestigious fashion school, Studio Bercot.  He also earned a Master's from the world-renowned Ecole De La Chambre Syndicale De La Couture Parisienne in Paris. Following graduation he immediately began working as the assistant designer to the late Gianfranco Ferré for the house of Christian Dior. In the mid Nineties, Thomas Steinbruck relocated from Paris to New York and worked with Geoffrey Beene and his collaborator Albert Elbaz, the former Creative Director for Lanvin.
In 1998, Thomas created his own fashion label. As a winner of the Fall 2000 Moët & Chandon Designer Debut Award, Steinbruck gained an international reputation. The "Thomas Steinbruck" line was sold in prestigious retailers as: Bergdorf Goodman, Nordstrom's, Saks 5th Avenue, Stanley Korshak-Dallas, Martha Phillips-Palm Beach, Giorgio Beverly Hills, Al Yashra-Kuwait, Apropos-Germany, Joyce Boutique-Hong Kong. In 2000, German Fashion house "Ambiente" contracted Thomas Steinbruck to design a cocktail and evening line under their label. In 2001, the German Car Manufacturer BMW signed him exclusively as their Fashion and Style Consultant. The Fall 2001 Fashion Show during 7th on Sixth's Fashion Week was presented in cooperation with BMW and such partners as Swarovski, Moët & Chandon and Bergdorf Goodman. Thomas Steinbruck's collection was featured in numerous leading publications and media coverage's which include Vogue, Harpers Bazaar, Elle, In Style, WWD, W, New York Times, E-Entertainment, CNN, ABC, NBC and such shows as the Academy Awards, The Emmy's, The Tonight Show with Jay Leno, Miss Universe Pageant.
In 2002, Thomas Steinbruck became a faculty member and the Chair of Fashion, Merchandising, Textiles and Design at Albright College in Reading, Pennsylvania as well as an Assistant Professor for Fashion Design at Parsons School of Design in New York. He was the teacher and mentor to such emerging talents like Lazaro Hernandez and Jack McCollough (Proenza Schouler) and Alexander Wang to name a few. In both 2004 and 2005 Thomas Steinbruck was a co-winner of the "Outstanding Achievements in Costume Design Award" given by the Daytime Emmys for his collaboration on the Drama Series "The Bold and The Beautiful".
In 2005, as Vice President for Merchandising and Design, he launched the new "Kenneth Cole New York" apparel collection, successfully placing the line domestic and international department stores and creating a new brand identity for the Kenneth Cole New York men's and women's division. 
In 2008 Thomas Steinbruck relocated to Paris to become the Vice President of Collections for the prestigious Couture House of "Elie Saab". His responsibilities include the implementation of all Creative Directions and the management of the Design Studios in Paris and Beirut.
In 2011 Thomas Steinbruck became the Creative Director for the Porsche Design Group and was based in Berlin and Stuttgart. He was responsible for implementing a full Fashion and Lifestyle Collection for Men and Women. During his tenure Porsche Design started to show at NY Fashion Week and received numerous excellent reviews. Steinbruck also produced iconic campaigns and collaborated with Peter Lindbergh and Carine Roitfeld. He also introduced a new store concept entirely designed by his team.
About Reebok
Reebok International Ltd., headquartered in Canton, MA, USA, is a leading worldwide designer, marketer and distributor of fitness and lifestyle footwear, apparel and equipment. An American-inspired global brand, Reebok is a pioneer in the sporting goods industry with a rich and storied fitness heritage. Reebok develops products, technologies and programming which enables movement and is committed to accompanying people on their journey to fulfill their potential. Reebok connects with the fitness consumer wherever they are and however they choose to stay fit – whether it's training, running, walking, dance, yoga or aerobics. Reebok Classics leverages the brand's fitness heritage and represents the roots of the brand in the sports lifestyle market. A subsidiary of the adidas Group, Reebok operates under the multiple divisions of the Reebok brand, Reebok-CCM Hockey and the Sports Licensed Division.  Reebok is the exclusive outfitter of CrossFit and the CrossFit Games, the official title sponsor of the Reebok Spartan Race; the exclusive authentic global outfitter of UFC, and exclusive apparel provider for Les Mills. For more information, visit Reebok at www.reebok.com or, for the latest news at
http://news.reebok.com/
. Or, discover Reebok at the following locations:
http://facebook.com/reebok
;
http://twitter.com/reebok
; and
http://youtube.com/reebok
CONTACTS
Andrea Nirsimloo

M&C Saatchi Sport & Ent.

United States

andrea.nirsimloo@mcsaatchi.com

646-619-2813