REEBOK AWARDED SIX CLIO SPORTS AWARDS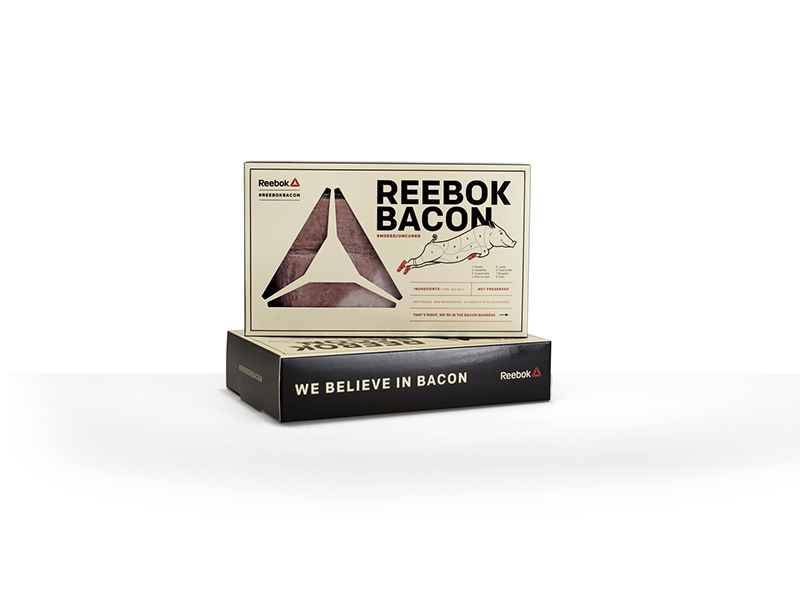 GLOBAL FITNESS BRAND RECOGNIZED FOR EXCELLENCE IN SPORTS ADVERTISING & MARKETING
July 10, 2015 - Canton, MA – Global fitness leader Reebok has received six CLIO Sports Awards at a ceremony in New York City. CLIO Sports is an international competition honoring creative excellence in sports advertising and marketing.
Most notably, the company was honored with a CLIO Sports Grand Award in the Design category for Reebok Bacon, created in collaboration with San Francisco-based creative agency Venables Bell & Partners. The coveted CLIO Sports Grand Award is a prestigious, best-in-show honor that is chosen from a recipient of the Gold winners in each category
Reebok was also awarded Silver in the Digital/Social category for its Human Dispatch Service as well as in the Film category for Reebok Spartan Race World Championships and Bronze in the Film, Out of Home, and Engagement/Experiential categories for its Freak Show, Be More Human billboard, and Reebok Bacon promotions. Additionally, Reebok's work in retail with the Be More Human campaign was shortlisted in the Out of Home category.
About the CLIO Sports Awards
The CLIO Awards honor creativity in its many forms. In 2014 the CLIOS launched the CLIO Sports Awards to give the sports category, a segment with profound influence on the creative business, its own well-deserved spotlight. The CLIO Sports Awards honor the best in sports advertising and marketing.
Annually, CLIO Sports convenes a veritable Who's Who of the sports business – marketing executives, commissioners, broadcasters, and athletes alike – to select from an international pool of submissions the breakthrough communications that elevated sports culture in the collective consciousness and made stars of players, legends of clubs, and icons of brands.
END
About Reebok
Reebok International Ltd., headquartered in Canton, MA, USA, is a leading worldwide designer, marketer and distributor of fitness and lifestyle footwear, apparel and equipment. An American-inspired global brand, Reebok is a pioneer in the sporting goods industry with a rich and storied fitness heritage. Reebok develops products, technologies and programming which enable movement and is committed to accompanying people on their journey to fulfill their potential. Reebok connects with the fitness consumer wherever they are and however they choose to stay fit – whether it's training, running, walking, dance, yoga or aerobics. Reebok Classics leverages the brand's fitness heritage and represents the roots of the brand in the sports lifestyle market. A subsidiary of the adidas Group, Reebok operates under the multiple divisions of the Reebok brand, Reebok-CCM Hockey and the Sports Licensed Division.  Reebok is the official outfitter of the National Hockey League (NHL), the exclusive outfitter of CrossFit and the CrossFit Games, the official title sponsor of the Reebok Spartan Race; the exclusive authentic global outfitter of UFC, and exclusive apparel provider for Les Mills.
CONTACTS
Andrea Nirsimloo

M&C Saatchi Sport & Ent.

United States

andrea.nirsimloo@mcsaatchi.com

646-619-2813

Hilary Gabso

M&C Saatchi Sport & Entertainment

United States

hilary.gabso@adidas-group.com

781-401-7748