Reebok Launches its 2016 Spring/Summer Training Line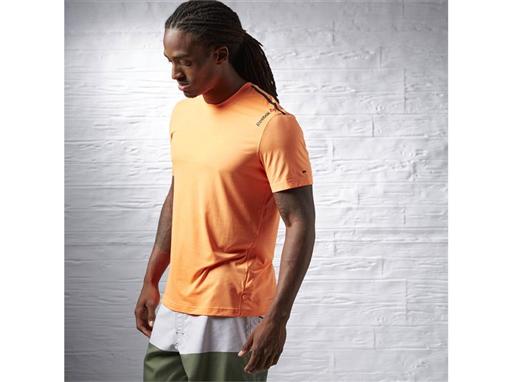 Reebok launches its new Spring/Summer 2016 Training line, featuring best in class functional training apparel and footwear.  Notable additions include the ActivChill line, Disrupt Training line, Kevlar Board Short, and innovative training footwear designed to tackle any WOD or fitness class.
The Disrupt Training line:  The Disrupt collection features unique apparel, designed to reflect the mood of the athlete while providing him or her with a diverse range of looks.  Each piece is designed by randomly placing CrossFit inspired prints across the fabric– making each bra, legging, tank or short unique from any other.  Disrupt apparel can also be flipped inside out for a solid color to meet individual preferences.  Staple pieces in the line include a reversible tight and reversible Chase Bootie that offers two looks in one.  Both pieces are made with Speedwick technology, increasing mobility and ventilation for the athlete.   
The ActivChill Training line:  ActivChill features proprietary technology designed to minimize heat and maximize potential.  All ActivChill product is engineered with irregularly shaped pentagon fibers that create pockets of air to increase ventilation.  The ActivChill collection includes the One Series Compression long sleeve, Nasty Force Cordura short, Crazy Camo tight, Elite Bonded legging, tank top and short sleeve top. 
CrossFit Kevlar Board Short:  Kevlar Fibers and Cordura are infused into the CrossFit Kevlar Board Short to provide athletes with the durability and flexibility that their workouts demand.  The short is infused with Kevlar thigh panels and Rip Stop Cordura technology down the front of the short and upper leg to help protect against tears and abrasions.
Training Footwear:  Reebok's Spring/Summer collection of Training footwear is designed to meet the CrossFit athlete's every need. Key products include the CrossFit Speed TR and Workout TR.  The CrossFit Speed TR is designed for WOD tackling durability.  Its low cut design allows for freedom and motion with quicker transitions.  It's built with an anti-friction collar and tongue lining to reduce moisture and heat buildup.  The Workout TR includes lightweight mesh and Cordura technology for breathable support and durability.  It sports a full foot rubber for improved traction during a variety of workout activities. 
CONTACTS
Dan Sarro

Corporate Communications

United States

+1 781 401 4443