Reebok Releases its Spring/Summer 2016 Combat Line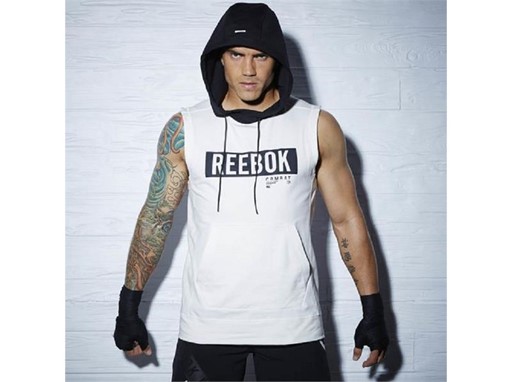 Reebok's Spring/Summer 2016 Combat line features new combat apparel with revolutionary performance features and a unique style.  The new collection has the latest in Speedwick moisture management systems as well as state of the art ventilation zones.  The combat line includes Men's/Women's combat sleeveless hoodie, Men's/Women's combat boxing short, Men's/Women's combat tank,  Combat short sleeve tee, combat compression short sleeve tee, combat bra, combat Capri, combat V-neck tee, combat bootie short and combat cropped tee.
Combat Sleeveless Hoodie:  The classic sleeveless hoodie is perfect for training and layering with other Reebok Combat tees.  The hoodies are built with double-knit construction and flatlock stitching along with Speedwick moisture Technology to keep athletes dry.  The Women's cropped silhouette hoodie provides the perfect layering addition.  The classical "Reebok" combat look is designed with a side zip to aid breathability and flexibility.
Combat Boxing Shorts:  The Men's/ Women's boxing short provides the ideal short designed with polyester mesh with a poly-knit waistband and exposed exterior drawstrings for a secure fit during training.  The Speedwick moisture management technology is tagged with added UV protection for reflectivity-- perfect for training in outdoor environments.
Combat Tees:  The Men's/ Women's Combat tees feature a variety of choices with the Combat short sleeve tee, combat sleeveless tees, combat tanks, compression short sleeve, V-neck tee and combat bra.  Each tee is designed for durability and comfort, utilizing Speedwick technology for added moisture management. 
CONTACTS
Dan Sarro

Corporate Communications

United States

+1 781 401 4443