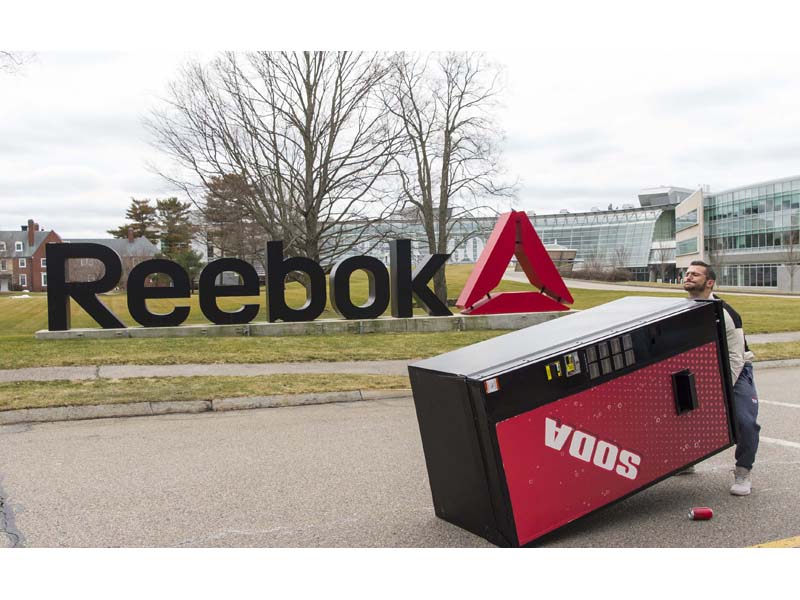 BRAND KICKS SUGAR FROM GLOBAL HQ; CONDUCTS SURVEY REVEALING STAGGERING LENGTHS AMERICANS GO TO FOR A SODA FIX
CANTON, Mass. – March 10, 2016
– Added sugar, the inescapable staple of American life, is truly everywhere. It can be found hiding in your Greek yogurt and sandwich roll, while highly conspicuous in your post-dinner dessert, and no more so than in your lunchtime soda. It is truly ubiquitous everywhere you eat, work, and play. Starting this spring however, it is no longer quite everywhere, as today, Reebok said 'seeya' to soda at its global HQ in Canton, Mass. as part of a wider, drastic cut to products served at the Home of Fitness that contain added sugar.
The announcement comes on the heels of a company-wide sugar reduction initiative in 2015 and, now, a general population U.S. survey from the brand, which found some of the unbelievable lengths people will go to get their sugar fix, particularly when it comes to soda.
Survey findings showed that Americans are willing to risk life and limb in the name of their favorite soft drinks, with nearly 30% of those surveyed saying they would rather give up their pinky toe than soda
1
, and 3 in 10 others stating they would prefer to lose their jobs than kick the soda habit
2
. They're also willing to publicly embarrass themselves in the name of the can, with 3 out of 5 Americans admitting to having belched or farted in public immediately after drinking soda
3
.
"The goal for us here at Reebok is simple - to be the very best fitness brand in the world and to inspire everyone who touches our brand - consumers, fans, and employees – to reach their potential. And our mission starts right here, with our own people," says Matt O'Toole, President of Reebok. "After seeing these survey results and hearing directly from many of our employees here, we felt removing sugary products from our HQ was simply the right thing to do. As a fitness company, we know how important it is to move – to use our body as it was meant to be used - but what we put in our bodies is equally as important." Survey data also found that many Americans don't in fact know what they're consuming - especially when it comes to soda. In one of the more staggering stats from the U.S. survey, Reebok found that up to 4 in 10 Americans cannot name even three ingredients in soda – and that includes water!
As a company that prides itself in being one of the fittest in the world, Reebok was not going to simply change its food menu and have old vending machines taken out in the middle of the night. Having some of the fittest employees in the world has its perks, so Reebok enlisted the help of its own staff, led by Reebok CrossFit One instructor, Austin Malleolo, to remove all of the old vending machines from its campus. Austin even created a unique WOD - flipping one of the machines like a tire out of the building. Check out the video:
here
.
In addition to the removal of sodas and sugary beverages, large candy bars, fried foods, white breads and pastas have been removed from the company campus and replaced with whole foods such as nuts, fruits and vegetables across Reebok's Canton, Mass. headquarters.
At the beginning of 2015, Reebok issued a bold challenge to the world to "Be More Human" with a campaign that continued the global fitness brand's mission to change how people perceive and experience fitness. "Be More Human" goes beyond a campaign or a tagline; it's a rally cry to live up to your full potential.
Reebok's Canton headquarters is already a beacon for fitness. More than 85% of the 1,000 employees participate in some form of physical activity on a daily basis at the brand's sprawling campus, which offers countless top of the range facilities including a 12,000 square- foot CrossFit Box, multi-use basketball court, soccer pitch, tennis courts, cycle studio, running track, obstacle course and a 37,000 square- foot fitness center with fitness classes available for all staff throughout the day.
1
Reebok 2016: Americans and Soda - Attitudes and Behaviors
2
Reebok 2016: Americans and Soda - Attitudes and Behaviors
3
Reebok 2016: Americans and Soda - Attitudes and Behaviors
CONTACTS
Dan Sarro

Corporate Communications

United States

+1 781 401 4443