Reebok Survey: Humans Spend Less Than One Percent of Life on Physical Fitness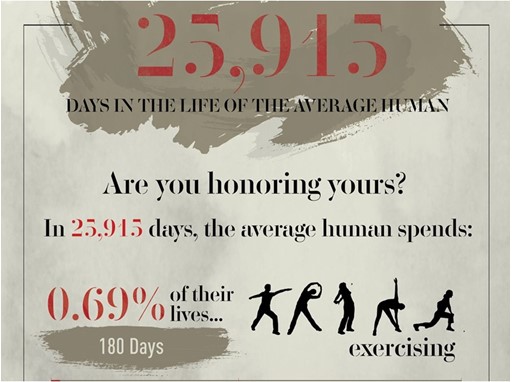 Global survey reveals how little fitness the average person will undertake in a lifetime, and opportunities to make positive changes
Canton, Mass – May 3, 2016: Despite the wide-ranging physical, mental and social benefits of physical activity and its indisputable links to health and wellness, Reebok today revealed that the average human will actually spend less than one percent of their entire life exercising.
This startling discovery is part of a global study by Reebok, investigating how humans spend their time on earth to support the launch of '25,915 Days'[1] – a new Reebok brand campaign that correlates to the average number of days in a lifetime, and aims to inspire people worldwide to honor their days and push themselves to do more with the bodies they've been given.
Watch the '25,915 Days' film here​; a dynamic and unique depiction of a woman's life told in reverse from old age to childhood, with her love of running at the heart of her life.
The study, conducted in partnership with global consultancy Censuswide evaluated nine countries around the world and disclosed that the average human would spend just 0.69% of their life exercising – or otherwise defined as 180 of their 25,915 days. The statistics provide more than a morose perspective on our world's prioritization of fitness – they serve as a rallying call to embrace the time we have on this planet.
"As a brand dedicated to promoting and supporting health and fitness around the world, we felt compelled to shine a light on the disparities between what we may aspire to achieve and what we're willing to do about it," said Yan Martin, Vice President of Brand Management at Reebok.   "It gives us a renewed urgency to get out there and live fuller, healthier lives. If we all traded in 30 minutes of phone time for a jog, we could actually help change the dynamics of global wellness."
To put a human's fitness commitment into perspective, Reebok also looked at the time we spend on technology devices (mobile, tablet, laptop and other electronic devices) and discovered a staggering result: 41 percent of an average human life is spent engaging with technology – or 10,625 out of their 25,915 days.
While these numbers may be troubling, there are many hopeful indications in the general physical activity we undertake each day without even thinking about it. On average, a person will climb Mount Everest nearly 45 times during their 25,915 days on earth and run the circumference of the earth almost twice (1.9 times).[2]
Martin continued: "The spirit of 25,915 isn't one of fear, but of hope and opportunity. This study will hopefully help to push and inspire people to do more. Run one extra lap, climb a few extra stairs – it could mean one more lap of the earth by the time your 25,915 days are up."
The study incorporated more than 9,000 respondents from the United States, United Kingdom, Canada, Germany, France, Mexico, Russia, Korea and Spain, with some interesting trends and results at a local level:
The average human will spend 29.75 percent of our lives sitting down, either at work or at home – or the equivalent of around 7,709 days. Russians topped the list at 32.9 percent.
The average human will spend 6.8 percent of our lives socializing with someone they love, or the equivalent of around 1,769 days. Germans led the group at 10.48 percent, or nearly 2,724 days.
The average human will spend 0.45 percent of our lives having sex, or around 117 days in total.[3]
The average human will challenge themselves to do something physically tough on average 7.27 times per month. Americans led this group, averaging 9.84 times per month.[4]
The average human will break a New Year's resolution after 2.72 months. Mexicans average the longest at 3.6 months.[5]
The nation with the strongest results in relation to time spent being physically fit, as well as engaging socially with the world around them, was Germany. In comparison to the other eight countries that were measured, the average German can expect to:
Spend the most time socializing with people they love (approximately 2,724 days)
Run the furthest (109,880km - almost three times the circumference of earth)
One of the lowest in time-spent using technology (around 8,995 days)
Climb the second-most amount of steps (2,746,990 – just over 47 times up Everest or 1,743 times up the Empire State Building)
As part of the '25,915' campaign, Reebok enables people to find ways to honor the days they have on earth at reebok.com/countyourdays​​, and share their personal accomplishments through #HonorYourDays.
For more statistics and regional comparisons on the Reebok '25,915' survey, please visit reebok.com/countyourdays​​.
[1] 25,915 days is the average life expectancy at birth of the global population as of 2013
[2] Based on calculations of Everest being 8,848m tall and each step being approximately 15.3cm
[3] Figures based on people who have had sex at least once
[4] Figures based on people who challenge themselves
[5] Figure does not include people who do not break their New Year's resolution(s)
Additional Statistics from the Survey:
Mexicans are most proud of their bodies, with 38.6 percent proud of how all of their body looks
Americans challenge themselves to do something physical tough the most, on average 9.84 times per month
Mexicans average the longest before breaking a New Year's Resolution at 3.6 months
Mexicans laugh on average more times a day than anyone else at 24 times a day, 621,960 times over the course of 25,915 days
Russians dance more than anyone, averaging 15 times per month
Brits daydream more than any other nation, averaging 49 times per month
Americans spend the most on fitness at $16.05 per week (or €14.23)
Americans are also the most adventurous, trying something new on average 7 times per month
Mexicans push themselves to their limits most often during a workout, on average 29.2 percent of the time
Russians sleep the most, on average 7 hours 5 minutes per night
For more information, visit @Reebok or contact:
CONTACTS
Lindsay Durr

Reebok Global PR Manager

United States

-

Dan Sarro

Corporate Communications

United States

+1 781 401 4443

Andrea Nirsimloo

M&C Saatchi Sport & Ent.

United States

andrea.nirsimloo@mcsaatchi.com

646-619-2813