Reebok Thanks Fitness Trainers Around the World With Touching New Tribute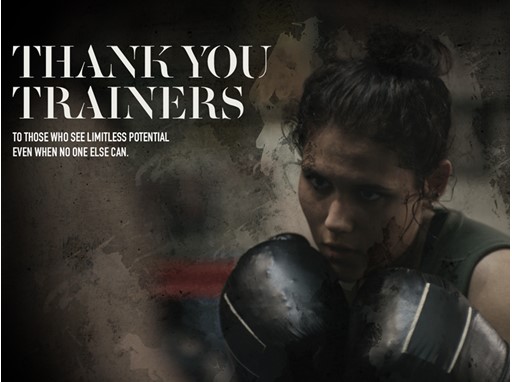 CANTON, Mass. – June 8, 2016 – They see our potential before we've even opened the door. They support our loftiest goals and ambitions. They inspire us to honor the bodies we're given. They are fitness trainers, and today Reebok – a global fitness leader – launches a worldwide content series that celebrates the trainers who inspire people to push their limits and be the best possible version of themselves.
The #TrainerTribute​ campaign pays homage to the professional fitness instructors who see and cultivate the limitless potential of their students. Reebok argues that their contributions to society are as valuable as those made by healthcare providers and educators; they motivate their clients to be healthy and teach people how to lead an active, productive lifestyle.
The series kicks off with a film focusing on boxing and combat-style training on June 9 and will continue throughout 2016, with additional films highlighting fitness disciplines including CrossFit and Studio.
Jamie Eason, Reebok Trainer, said, "It's natural that a brand that has influenced athletic trends for decades would look to support other true influencers in fitness, the professional trainers.  While the athlete or individual transformation tends to get all the accolades and attention, Reebok recognizes that trainers are the unsung heroes, sharing their expertise and putting heart and soul into someone's success. There is nothing better than working with a company that makes its team feel valued."
Jen Widerstrom, Reebok Trainer, said, "The way that we believe in the people we train is the same way that Reebok believes in us as instructors. They celebrate our strengths, they inspire belief in ourselves and they celebrate our passion. Just as we are there as coaches for our communities, Reebok is there for us."
As part of the #TrainerTribute campaign, Reebok will partner exclusively with Handstand​​, the fastest, most affordable way to find quality personal fitness trainers in your area. The app is disrupting the personal fitness industry by connecting trainers to clients with the tap of a button, allowing for a customized fitness experience with a choice of over 15 disciplines from yoga to boxing, and making fitness accessible and convenient to the busiest of people.
Users can book their city's top trainers to come to them at any time and place, for almost half the cost of a gym, while the instructor is able to earn a greater portion of the class fees than they would at a typical fitness studio. The Handstand app is currently live in Greater Los Angeles and New York City, with plans to roll out to other cities in the U.S. and globally.
All instructors that sign up to Handstand will automatically become members of ReebokONE​, the brand's global network of fitness trainers. Members are given priority access to the very latest cutting-edge fitness products and receive substantial discounts to brand new merchandise.
Steve Robaire, Director of Instructor Engagement at Reebok said, "We want to show trainers how much we appreciate them, and we recognize that their contribution to society is much bigger than they are credited for. Fitness educators support us physically, mentally and socially and ought to be viewed in the same way that doctors, nurses and teachers are.
"Understanding the needs of instructors is within our brand DNA; we've been doing this since the 1990s with our Reebok Alliance program that provided instructors with access to cutting-edge products. Today, through our partnership with Handstand, an app that brings an on-demand experience to the fitness industry, we are not only helping instructors to reach a larger network, but also to increase their earning potential."
The #TrainerTribute campaign-- shot by Venables, Bell & Partners-- coincides with the Reebok Global Instructor Summit, which takes place June 6-9 in Palm Desert, CA. The summit unites 25 of the world's most influential fitness professionals. These instructors, who also serve as Reebok Trainers, reach tens of millions of devoted followers every day on social media, and have inspired countless more through their efforts.
Additional tips, stories and information about Reebok Trainers will be available at http://fitness.reebok.com​.
CONTACTS
Andrea Nirsimloo

M&C Saatchi Sport & Ent.

United States

andrea.nirsimloo@mcsaatchi.com

646-619-2813

Dan Sarro

Corporate Communications

United States

+1 781 401 4443