UFC® and Reebok Elevate Sport of MMA with First-Ever UFC Fight Kit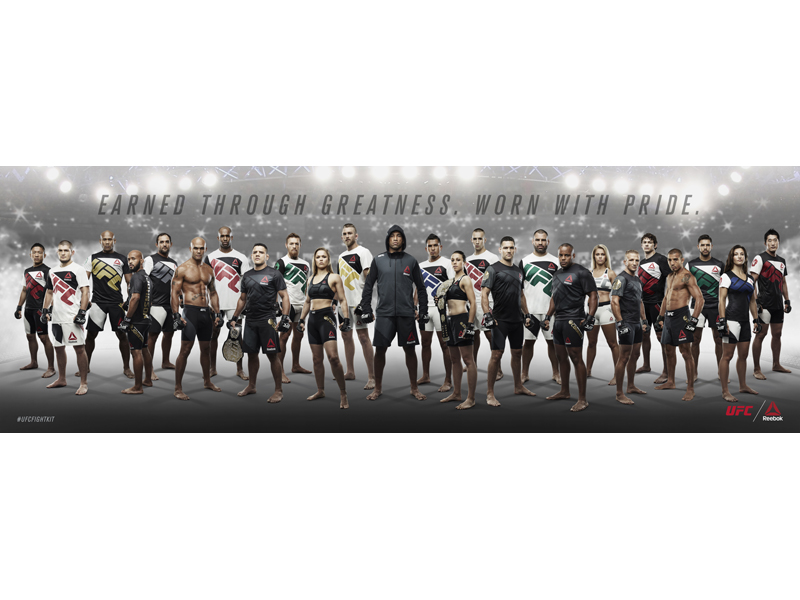 Apparel Engineered for Ultimate Performance
June 30, 2015 (New York City, NY): UFC® and Reebok today unveiled the first-ever UFC Fight Kit. Built for high-performance athleticism, the UFC Fight Kit will be worn by every athlete that steps into the Octagon® and symbolizes UFC's continuing evolution in the sport of Mixed Martial Arts (MMA) with a line of apparel developed with fighters, for fighters by Reebok. The kit will debut for the first time in the Octagon at UFC® 189: ALDO vs. MCGREGOR on July 11.
Built for pride and designed for performance, the official UFC Fight Kit by Reebok features innovations that support strength, speed, and flexibility, while allowing each athlete to prominently display their names and country pride on kit pieces:
STRENGTH: Sublimated graphic execution and reinforced double welded seam sealing construction for durability and reduced abrasion.
SPEED: Lightweight low-profile construction for weight reduction and streamlining. 
COMFORT: PlayDry moisture management technology quickens drying time by rapidly moving moisture away from the body, allowing fighters to maintain optimum body temperature in the heat of battle.
FLEXIBILITY: 360° multi-directional stretch fabric and laser cut side vents for functional mobility. Anti-slipping technology ensures form fitting for every fighter position.
PRIDE: Country specific badging and athlete's name with iconic on-garment placement.
The UFC Fight Kit has three variations: Champion Kit – featuring black and grey colors with iconic gold trim, worn only by current champions, Country Kit – with country specific colors and badging, and Universal Kit – using black and silver with a global badge, available to all athletes on the roster. The UFC Fight Kit includes the official UFC walkout jersey, variations of the Octagon short, the Octagon skort, the walkout hoodie, and assorted performance tops for women.
"Today is a historic moment for UFC, our athletes, Reebok and the sport of Mixed Martial Arts," UFC President Dana White said. "We've teamed up with an amazing global partner to take this sport to the next level, and we've done just that with the UFC Fight Kit. This gear was built and designed specifically for MMA athletes. Not only does it elevate the look of the sport - it revolutionizes the way they train, compete and perform."
"The UFC Fight Kit is a landmark moment for Reebok's partnership with the UFC as well as the sport as a whole,' said Matt O'Toole, Reebok's President. "UFC athletes represent some of the toughest and most dedicated humans in the world and Reebok is proud to develop the first-ever dedicated kit to support and enable their greatness in the Octagon."
Beyond the Octagon, Reebok also launches its Reebok Combat collection today.  Providing high performance apparel for people who fight for a living and those who want to train like a fighter.
"MMA is an exciting sport that is on the forefront of fitness and conditioning and Reebok Combat offers a full collection of training apparel to support those who like to train like a fighter. Reebok Combat is part of our holistic commitment to growth and support of MMA at all levels and we are excited to see the reaction to this brand new category from all corners of the world," said Todd Krinsky, Vice President at Reebok.
The UFC Fight Kit will be available for pre-sale on www.ufcstore.com ​ and www.reebok.com​ as of June 30. It will officially launch at Sports Authority on July 7 and Reebok FitHubs on July 10, in the US and Canada, as well as being available at the UFC Fan Expo® in Las Vegas July 10-11. International release dates to be announced. The Reebok Combat collection will also be available on www.reebok.com beginning July 1.
Images of UFC athletes featured in the UFC Fight Kit are available at Getty Images: www.gettyimages.com/collections/ufc​.
-END-
About Reebok
Reebok International Ltd., headquartered in Canton, MA, USA, is a leading worldwide designer, marketer and distributor of fitness and lifestyle footwear, apparel and equipment. An American-inspired global brand, Reebok is a pioneer in the sporting goods industry with a rich and storied heritage in running, training and fitness. Reebok is committed to helping consumers fulfil their potential and be "fit for life." Reebok develops products, technologies and programming which enable consumers to live a healthy lifestyle and have fun doing it. Reebok connects with the fitness consumer wherever they are and however they choose to stay fit – whether it's training, running, walking, dance, yoga or aerobics. Reebok Classics leverages the brand's fitness heritage and represents the roots of the brand in the sports lifestyle market. A subsidiary of the adidas Group, Reebok operates under the multiple divisions of the Reebok brand, Reebok-CCM Hockey and the Sports Licensed Division.  Reebok is the exclusive outfitter of CrossFit and the Reebok CrossFit Games, the official title sponsor of the Reebok Spartan Race, and exclusive apparel provider for Les Mills. Discover Reebok at the following locations: http://facebook.com/reebok, http://twitter.com/reebok, http://youtube.com/reebok, http://news.reebok.com/
About UFC®
Owned and operated by Zuffa, LLC, the UFC® is the premier mixed martial arts (MMA) organization and largest pay-per-view event provider in the world. Headquartered in Las Vegas with offices in London, Toronto, Singapore and Sao Paulo, UFC produces more than 40 live events annually that consistently sell out some of the most prestigious arenas around the globe. UFC programming is broadcast in 158 countries and territories to over one billion TV households worldwide in 21 different languages. UFC has a multi-year broadcast agreement with FOX in the U.S., which annually includes four live events broadcast on the FOX network, as well as The Ultimate Fighter® reality television show and thousands of hours of programming on FOX Sports 1 and FOX Sports 2. In 2014, UFC launched UFC FIGHT PASS™, a digital subscription service with exclusive live events, thousands of fights on-demand and original content. The UFC organization also licenses over 100 UFC GYM® locations, and owns UFC.TV® (offering live event broadcasts and video on-demand around the world), UFC FIT® (an in-home fitness and nutrition program), UFC Magazine, and has a videogame franchise with EA SPORTS, UFC Fight Club®, UFC Fan Expo®, UFC branded apparel, DVDs and Blu-rays and Topps Trading Cards. For more information, visit UFC.com and follow UFC at Facebook.com/UFC, Twitter and Instagram: @UFC.
CONTACTS
Isabelle McLemore

UFC

United States

702-540-0905

Michèle Barmash

Reebok Global

United States

Michele.barmash@reebok.com

781-686-2823